Pet Pro Digest 120g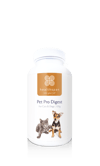 What is Pet Pro Digest?
Containing 'friendly' bacteria, Pet Pro Digest is an advanced supplement designed to help support your pet's general wellbeing including their digestive and dental health. This specialised formulation has been designed to promote a healthy balance of live 'friendly' bacteria in your cat or dog's digestive system.
Why choose Pet Pro Digest?
Whilst many pets can experience digestive health issues, adding this supplement to their diet can be beneficial for both their gut and dental health. This superior formulation contains high levels of probiotic Bifidobacterium lactis which helps support the protective intestinal microflora of your pet's digestive system.
Is this right for my pet?
Pet Pro Digest is suitable for all cats and dogs that may need extra support when it comes to their digestive system, dental health and energy levels.
Made in the UK.
Ingredients:
Probiotic Culture 2 billion CFU
containing
Enterococcus faecium M74 0.5
Bifidobacterium animalis subsp. lactis BL-04 0.5
Fructo-Oligosaccharides 90% 2g
providing
Fibre 1.8g
CFU = colony-forming units
Share